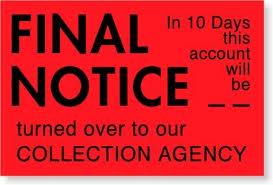 Each day many people rely upon credit as a means of purchasing merchandise and other items. Although this method of payment can be convenient if used properly, overextending credit or accumulating too much debt can cause legal issues and/or financial difficulties.
The laws and regulations governing the extension of credit and collection of debt are often complex. Whether you're a creditor attempting to collect a delinquent debt, or a debtor being harassed by a collection agency and trying to negotiate a reasonable settlement, the Ball Law Center can advise you of your rights and assist you through the process.
Attorney Lance Ball is experienced in representing creditors and/or debtors in the following types of credit law and debt collection matters, including:
Credit and financing agreements
Security agreements
Promissory Notes
Mortgages
Credit card agreements
Truth in Lending violations
Predatory lending
Fair Credit Reporting
Fair Debt Collection Practices
Consumer Collection Practices
Demand letters and other notices
Collection letters and lawsuits
Judgment liens
Garnishment actions
If you are in need of legal assistance concerning a credit law or debt collection matter, please contact Attorney Lance Ball today at (941) 740-2255 to schedule a confidential consultation, and become more knowledgeable about your legal rights and available options.